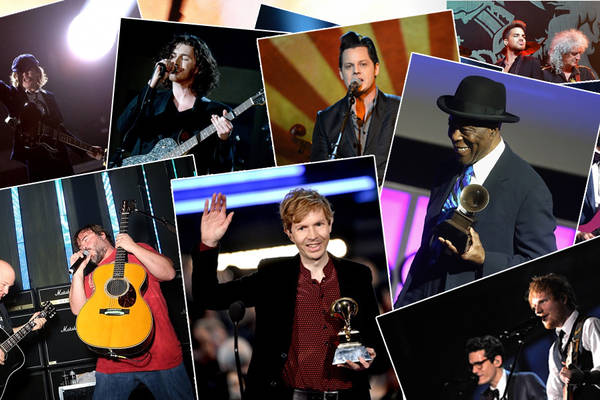 Homer Simpson may have famously discarded his Grammy but, for better or worse, they remain the only music awards with any real relevance. The Mercury Music prize might offer a veneer of highbrow credibility, but it's the American showpiece that serves as the international standard: a yearly state of the union address from the industry bigwigs that seeks to elevate and evaluate each and every genre.
For most fans of guitar music, the Grammys offer a chance for fans to poke their heads above the parapet and discover how the rest of the world views the music they love. So, with that in mind, what exactly did we learn about the state of guitar music in 2015 from music's glitziest and most glamorous shindig?
Beck spent the best part of a decade living on the cutting edge, mutating country, folk, alternative and electronica into a series of dizzyingly surreal concoctions that proved both heartfelt and ironic. In 2002, Beck asserted that he could be a sensitive and wistful straight-ahead rock star with Sea Change (a delightful alternative-folk album) and in 2014 he returned to that more sombre motif.
Morning Phase doesn't feel like an album of the year or the best rock record released in the last twelve months and yet it is clearly a work of considerable genius. Beck's music is delicately trippy; offering gorgeous, silky tones and humble sentiments that are never remotely dull. Ultimately, Morning Phase is an album that encourages the listener to fall slowly, deeply, intensely in love over the course of 47 minutes.
Drama ensued when Kanye West interrupted Beck's acceptance speech (recalling his prior flare up with Taylor Swift) with the rapper suggesting Beck was an undeserving winner. The press have made a meal of Kanye's "rant", but the essential point is worth considering: is Morning Phase a dynamic and inspiring piece of modern music which speaks to our times? The answer is probably no, but it is a great record nonetheless.
Guitar Planet loves Tenacious D (Hell, who doesn't?), but for a cover version of "Last In Line" - a tribute to the dearly departed Ronnie James Dio by a comedy rock duo - to be considered the best metal had to offer in 2015 is, frankly, depressing. Mastodon and Slipknot offered both modernity and quality on a nominee list that looked back, rather than forward (Motorhead and Anthrax rounded out the alternate options).
Hard rock fans have been dismissing the Grammys as obliviously out of touch ever since Metallica were snubbed for the inaugural Metal Performance award back in 1989, but the fact remains: another year has gone by without the rise of a breakthrough star capable of transcending the metal niche.
Guitar Planet named Annie Clark the third best guitarist of 2014 and at the Grammys her incredible wealth of critical plaudits came good in the form of mainstream recognition. St. Vincent was a timely, innovative and brilliant album that oozed crossover potential, which, combined with Annie's barnstormingly angular and unashamedly solo-centric live shows, made her worthy conqueror of Jack White, Cage The Elephant, Arcade Fire and Alt-J in the Best Alternative Album category.
He might have collected six Grammys across the course of a storied career, but the great Buddy Guy was thoroughly deserving of his seventh and most prestigious: the Life Time Achievement award. This is the kind of award that the Grammys routinely get so right: eschewing more famous names and paying tribute to the greats who shaped the face of modern music.
Imagining the evolution of guitar music (or hell, pop music) without Buddy Guy is near impossible and the fact that his most vital and influential years went largely undocumented only adds to his legacy. His wild live shows altered perceptions and helped the blues transition into full-blown rock. Vaughan, Hendrix, Page and Beck have all tipped their cap and paid homage to their great inspiration Buddy Guy and now the industry's acceptable face has (at long last) followed suit.
After Beck shocked the world by walking home with both the major album prizes it was left to the ubiquitous stars (Jack White, Paramore and Miranda Lambert) to sweep up the three remaining guitar driven awards. Each winner is undoubtedly deserving, but a brief look down the nominees list suggests an overall victory for the status quo with The Black Keys, Tom Petty, U2, Arctic Monkeys and Ryan Adams offering the only real opposition. Rock and Country are blessed with a charismatic and creatively driven elite, but with major pop and rap honours falling to new stars, it might be time to ask: who is guitar music's answer to Sam Smith?