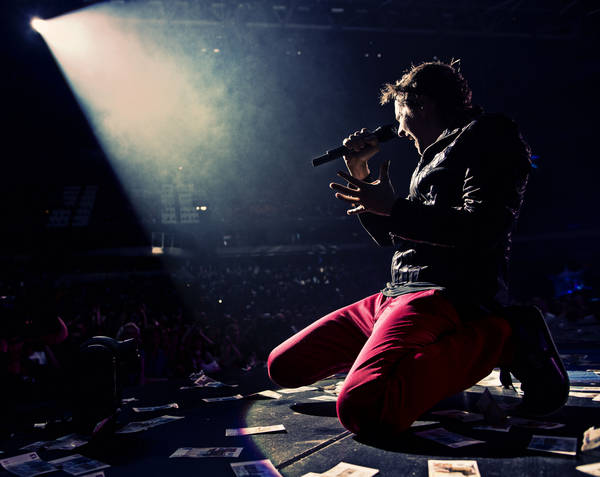 2015 is off to a decidedly slow start. Guitar music obsessives patiently wait for a galvanizing moment to kick this drowsiest of years into action. The award shows have come and gone with little to sink our teeth into. Guitar bands didn't storm the stage or even trip on their capes; they were merely perfunctory, professional and safe. Instead, rock fans are forced to jealously peek over their friends' shoulders as hip hop plays the unruly wild child with its contentious Glastonbury headliner and internet-shattering-album-launches ripping America's "post-racial society" to shreds.
Surely someone has to introduce some impetus and give rock a sense of direction (and god forbid some momentum) in 2015. Well three wily veterans are trying to do just that, with the long awaited arrival of new material from intergalactic overlords Muse, Britpop royalty Blur and 90s innovators extraordinaire Faith No More. But are these comebacks really worth celebrating or are we merely clutching at straws?
Matt Bellamy, Dominic Howard and Chris Wolstenholme have arrived at a pivotal moment. 20 years into their career and they've seemingly done it all. Muse have successfully escaped and transcended Radiohead's shadow. America, who once rejected Blur and Oasis, has wholeheartedly embraced the three-piece. They have not only headlined every festival in existence, they've tamed Wembley before the age of 40: establishing a live reputation that sends shivers down the spines of their peers. Muse literally had a space ship hover above the hallowed turf of the nation's national stadium – where on earth do you go from there?
Sonically they've explored the old and the new: playing classic albums in full live (to predictably rapturous reviews) while experimenting with Dubstep and funk on record, all the while (seemingly improbably) avoiding disaster. So what could possibly come next?
If "Psycho" is the answer, then we can only assume that Muse intend to saunter and strut with the assuredness of a globe straddling juggernaut. The guitars are big and bolshy, fit to obliterate dance floors and corporate headquarters with a hypnotic lock-step-stomp.
Matt Bellamy seems to be simultaneously reaching back and beyond. His vocals recall both the spikey, alternative otherness of Muse's early albums as well as the glitter coated pizazz and spoken word overlays that echo the pomposity and pageantry of Roger Waters' The Wall. It's tempting to point to both Freddie Mercury's theatricality and Marilyn Manson's camp intimation, but when Bellamy concludes "Psycho" with a dog whistle cry of "your arse belongs to me now", he sounds pleasingly singular.
"Psycho" is not as jarringly daring as either "The United States Of Eurasia" or "Unsustainable" (the two singles that announced the arrival of Muse's last two albums), but it is tighter and gimmick devoid. The corporate world is unlikely to quake, but Muse fans need not cringe: this is the band's tightest lead since 2006's "Supermassive Black Hole". As long as it doesn't signal an abdication of interstellar ambition, Muse fans should be licking their lips.
"Dead Inside" is a trickier beast, which sees Bellamy revive his white funk falsetto. He slides and squeaks atop an updated Depeche Mode groove. Intriguingly, surveillance age paranoia gives way to freelancing guitar work on the track's pseudo-chorus as Bellamy builds toward a grand crescendo. Said finale is not a barrage of bass driven bombast and nose-diving guitarwork, but a distinctly U2ish stadium sized display of shared vulnerability.
Anticipation Level: C+
Damon Albarn teased us with the prospect of new music in 2012 when Blur released the tender ode "Under The Westway". That singularly brilliant track did not signal a full-scale return; instead it served as a special single designed to coincide with the closing of the London Olympics. The UK remained abuzz with rumours of Blur's return, but as three years drifted by without the slightest hint of new material, hope began to fade.
2015 was barely underway when news broke that Blur would not only be returning to Hyde Park, but that a fully written and recorded album was ready for release come April's end.
The question is no longer when will Blur return, but what on earth will they sound like? The new tracks they teased in 2012 (which will not feature on The Magic Whip) suggested a blend of balladry and 90s nostalgia, but the Blur who bid the world adieu in 2003 had already morphed into a richly ambitious, highly experimental and more downbeat ensemble. While Graham Coxon spent the intervening years as a rock revivalist, Damon Albarn perused new sounds and influences on an array of high profile projects.
"There Are Too Many Of Us" suggests that Albarn's more mournful sentiments will win out. This pained trudge captures a sense of downcast, dull-as-dishwater beauty, as Blur ruminate on the tragedy of silent oppression. The track's title is less a rallying cry and more a desperate self-affirming mantra designed to give us the strength to go on, rather than the impetus to make a change. "Lonesome Street", despite the title, is a more cheerful composition – a wry reflection on being left behind by societal change and finding comfort in one another, rather than nostalgia.
"Go Out" is no cheerier; it's a scuzzy, sardonic take on social dislocation that sees the successful Ayn Randian individualist going out to the local and dancing alone. Further evidence that fans should not expect a return of the gobby hit spewing Blur of the mid-90s, but the arrival of an older, wiser and more cynical group of artful observers.
Comeback Potential: B-
Predicting what Faith No More will do next is a fool's game. The 90s revolutionaries charged with foreshadowing the rise of nu-metal and creating the alternative rock scene are so famously enigmatic that they could just as easily have returned with another easy listening cover of The Commodores as a blast of inaudible strained hardcore.
"Superhero" is perhaps the best possible result: a grand theatrical slap of unstable insomnia. The band's idiosyncrasies are not only present, but feel sincere and not remotely phoned in. Mike Patton is still crazy after all of these years and Faith No More are showcasing a level of ambition that today's most revered metal stars dare not match.
If there is a hole to be picked in this otherwise stellar return, it comes from the rather drab production that muddies the band's sound in the mix. The end result is gloriously sharp keys, a slick chorus and a killer solo, but an underpowered rhythm section. This will no doubt be rectified live and this minor technical quibble is not enough to sink a surprisingly vital return.
Comeback Rating: B+