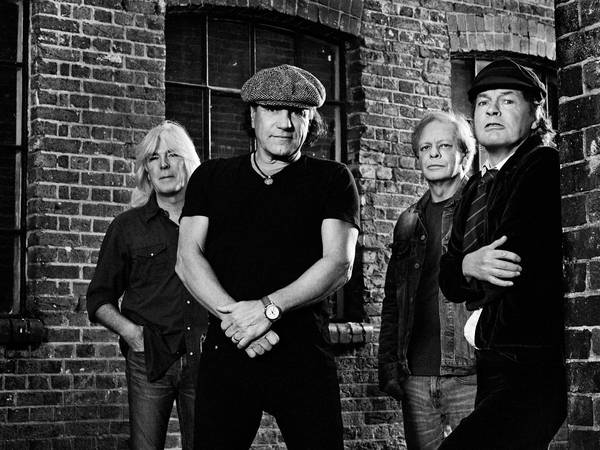 AC/DC can do no wrong. Never has one band been afforded such universal good will. From Hollywood, from the press, from the public: when it comes to these Australian rock gods, the thumbs are perpetually pointing upwards.
Other artists must be jealous (to put it diplomatically). AC/DC have not only proved bullet proof when it comes to scandal and backlash, but throughout their 41 year career the reviews have remained rosy as the millions piled higher and higher.
From the outside looking in this universal love-in is baffling. Surely AC/DC should have wilted in the face of punk's primitivism in the late-70s or been drowned out by the arrival of brutalistic Thrash and slick synth-pop in the 80s? What about Grunge? Didn't Kurt Cobain rid the world of bombastic cock rock? And if he couldn't get the job done, shouldn't the 2000s with its skittish post-Radiohead sounds, death of guitar rock gloom and backlash against overtly misogynist rock have seen AC/DC mothballed once and for all?
Nope. AC/DC are bigger, better and stronger than ever. Jack Black's School of Rock hooked a new generation of kids on Angus Young's goose-stepping, stadium-shaking, riffage in 2003, before Iron Man made AC/DC the sound of the most preposterously self-assured money spinning super hero franchise of the modern era.
Far from a soft pop culture driven revival dependent on nostalgic thrills, AC/DC, unlike their aged peers, continue to sell new music in unprecedented quantities. 2008's Black Ice shifted eight million units worldwide and went platinum in an obscene number of nations - earning an impressive 70% average review in the process.
No one would begrudge an artist success (AC/DC are making people happy in astounding numbers after all), but the lofty place they occupy in fans and critics' hearts defies all convention. The Aussie outfit, quite simply, are afforded a free pass.
They have made a solemn commitment to never grow, never change and never take risks. AC/DC do not evolve. They spit in the face of Charles Darwin. Their sound will not adapt to better suit their environment, instead it stubbornly endures and the music industry, whatever state it happens to be in, is forced to accommodate them.
How or why this is so, frankly, no one knows. If it weren't for the improvements in the quality of studio recordings (in terms of cleanness of sound) it would be near impossible to separate a 2000s AC/DC cut from a 70s classic. The lyrical content certainly hasn't moved forward. Hedonistic filth and drunken good times remain the order of the day. Ironically, the one line of criticism that is routinely laid at the band's feet is not that they keep offering us more of the same, but that their music isn't quiet identical enough! They are not quite as wild or energetic as they used to be: they are no longer a perfectly preserved copy – that, ladies and gentlemen, is as harsh as the backlash gets.
It's hard to think of a single other band afforded this luxury. Be it The Rolling Stones or Madonna, the past greats always strive to evolve and keep pace with change. Bands have been critically and commercially battered for sounding even a year out of date or for trying to sell their fans watered down rehashes. AC/DC, on the other hand, remain in creative stasis without any hint of stigma, only greater and greater returns.
2014 hasn't been a good year for AC/DC. Malcolm Young, AC/DC's founder and rhythm guitarist, was forced to retire from the band as he received treatment for dementia. Meanwhile their long dead lead singer Bon Scott has seen his name dragged through the mud in the tabloids, with a variety of sex scandals stemming from the release of former manager Michael Browning's tell-all book.
All publicity might be good publicity, but it still feels decidedly strange to see AC/DC's name associated with tragedy and tawdry gossip. The band might sing about sordid sexual exploits and dark deeds, but most fans are accustomed to the aura of good vibes and hard rock escapism that accompanies their typically infrequent returns to the limelight.
So what did AC/DC do in this rare moment of self-doubt and scandal? What do you think: they served up another slice of heavy hitting, old school, towering rock and roll – and racked up over a million YouTube views in the process.
"Play Ball" is exactly what you'd expect. It has some slight Who-ish undercurrents lurking behind its glorious, blue-collar, guitarwork, but it is ultimately a reminder of why AC/DC are so beloved. They are a constant; a perpetual good time, a hard rock comfort food that manages to be just raucous enough to never feel cosy.
Perhaps that is their secret. By refusing to reform, by shunning what is typically considered to be progressive, AC/DC feel daring. They are anachronistic throwbacks who never really fit in the first place. The result is a strange sense of equilibrium: by never deviating, they can never alienate, but by never bending to the industry or the culture's whim, they never feel safe or dull. AC/DC get to have their cake and eat it too.
So is "Play Ball" actually any good? An irrelevant question: it simply rocks.