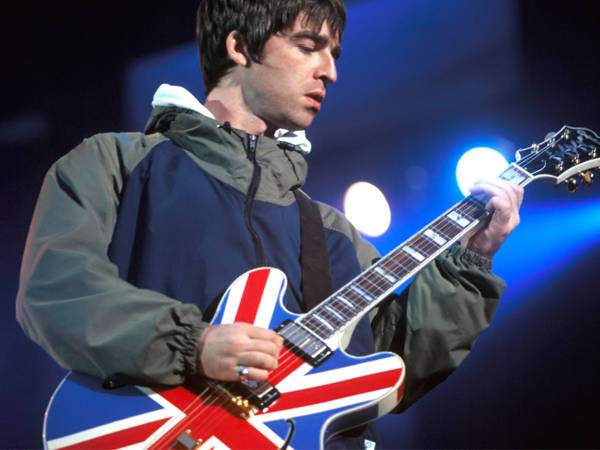 With each passing year it seems stranger and stranger to imagine a time when guitar bands, not only ruled the charts with an iron fist, but were the world's principal cause celebre, setting the cultural agenda. Back in 1994, after some promising rumblings, the idea of guitar bands ruling the roost was not a rosy reflection, but an onrushing reality.
Parklife hit the shelves on April 25th and Definitely Maybe was ready and waiting to divide a nation and set Europe aflame with rock and roll. Hyperbole overload? Perhaps, but Brit Pop was intrinsically tied up with tabloid headlines as well as commercial and artistic excess. For some the substance was irrelevant. Like most great pop sensations, Britpop was about being there and soaking in the artificially infused narratives: choosing sides and picking up a bottle was more important than snapping up the latest Oasis or Gay Dad record.
Twenty years on, heads have stopped spinning and the thrill of the moment has become ancient history. Young artists now look back to the 90s for inspiration, like an academic rummaging for a reference, they pinch a Gallagher snarl here, a baggy trouser there and a big dollop of bolshy pop wherever they can get it. But now that Britpop's last embers have been extinguished and the genre's biggest hitters largely exist in the past tense: it's time to reflect on Britpop's legacy.
Was Britpop a golden age or a shallow cash in? Did it represent the moment when Europe stood swaggering on its own two feet, not hiding in an intellectual nook, but staring down the American made Axl Roses, Kurt Cobains and Stephen Malkmuses of this world, toe to toe? Or perhaps it's simply the moment guitar music dumbed down, looked back to bygone eras for inspiration and stopped caring about moving forward.
Whether a sound touched millions or is known only to a selection of music obsessives, the first thing any craze has to deliver if it hopes to stand the test of time and be more than just a passing fashion is, simply enough, brilliant records. Britpop is not short of detractors, but when push comes to shove, would any of them claim the world would be a better place without Definitely Maybe, Different Class or Parklife?
Even Suede, often retrospectively pushed to the side of the stage, can claim to have delivered a stand out album in Dog Man Star. In many senses Britpop had its bases covered. Guitar obsessives who might not see the merit in Jarvis Cocker's kitchen sink subversion, surely couldn't help but lick their lips at the prospect of standing in front of 150,000 people at Knebworth House and letting the sediment shaking opening chords of "Morning Glory" fly.
Noel and Liam Gallagher, for all the retrospective faults (cocaine fuelled idiocy, thinly veiled plagiarism, the worst attempts at psychedelia imaginable), cannot be denied their initial, and utterly essential, impact. They might have become cartoon characters and homely football phone-in royalty respectively, but in 1994 they offered a rallying cry to the working classes. "Rock and Roll Star" was more than wish fulfillment; it was proof that with enough bravado the grind of the 9-to-5 could be escaped. Before it became a gormless terrace sing-along and karaoke atrocity, "Live Forever" was a brazen rejection of suppressed ambition and muted expectation.
They might have reveled in "Cigarettes & Alcohol" and typified a numbing lad culture (a tedious forerunner of modern day Bro culture), but back in 1994 Oasis were downright heroic. Young imitators often mimic the Gallaghers' bravado, but they'd do well to remember the message of escapism and the brilliant, unifying, pop hooks that underlined their every sneer.
The heavy hitters of the Britpop era may have endured, but most great movements transcend isolated flashes of brilliance and deliver a generation of hidden gems and sneakily influential oddities. The American Alternative scene of the 1990s offers a suitable comparison. The Smashing Pumpkins and Pavements of this world delivered storied careers and lengthy back catalogues, but a scratch beneath the surface reveals a host of essential lesser known offerings (Slint, Neutral Milk Hotel and The Magnetic Fields to name a handful).
Britpop cannot even attempt to do the same, instead of hidden gems, it offers an array of out of sight, out of mind, better left forgotten failures. No one is screaming out for a Kula Shaker boxset, but fewer still are desperate to re-evaluate the works of Menswe@r or Gay Dad. Even the bands initially lumped in with the trend - who did have more to offer than a spritely hop onto a bandwagon (think Saint Etienne) - were quickly jettisoned as Britpop changed in character.
At the outset it was a group noun for a new wave of guitar music, by the time it reached its chart topping zenith and its embarrassing nadir, Britpop had established a distinct and deeply unappealing character – which The Guardian's Michael Hann masterfully exorcised:
"Britpop became, a collection of lowest common denominators that ended up setting music back: a slavish devotion to a set of signifiers that included 60s music, mod fashion, football, and intoxication. None of those are bad things in isolation. But put together they resulted in a generation of bands and fans who resembled nothing so much as a parody of the football hooligans of a generation before."
Lad culture, booze and bad pop songs, as Britpop drove on and rapidly ground itself into the dust, it's obsession with 60s pop became less noble and more libel. Equally, once Oasis' aspirations had been fulfilled, they were not replaced by the next wave of hungry stars sick of scratching around in the same old hole, but an army of imitators eulogizing gawdy plastic images of Britishness and concerning themselves solely with excess. Somewhere along the line drugs and money had replaced dreams and social satire. Those arch winks and acerbic nods no longer faced outwards, but inwards, as Britpop became a shameless self-parody.
Pulp simply drifted away from Britpop, not by conscious choice; they no longer fit the bill. The movement had got bigger and bolshier: less satirical, less thoughtful and less odd – no place for genuine outsiders. Damon Albarn and Grahame Coxon abruptly woke from their nightmare (or three-year celebrity binge) and didn't like the artists they'd become. By the end of the 1990s, Blur had ditched "Country House" and would reinvent themselves by embracing experimentation – regaining the edge they'd lost on the really rather excellent 13.
The Gallagher brothers hit bottom as Britpop finally ran its course. The tedious Standing On The Shoulders Of Giants and the awful, but perversely enjoyable, Be Here Now, perfectly encapsulate the genre's collapse into self-parody. However, while the bad records might have killed Britpop, they couldn't dent Oasis.
They endured, becoming an institution because their earliest aspirational work stood firm in the face of their failures and, while the band would struggle to recapture their best, they never lost their hit making touch. Likewise, Britpop is best remembered not for what it stood for or what it became, but simply for its brightest stars. This is one phenomenon where individual artists vastly outshone the whole.