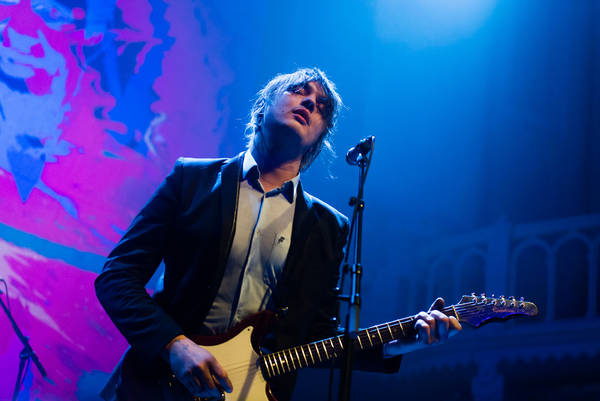 Ten minutes before The Libertines are due to arrive, the all encompassing video wall masquerading as our main stage switches from showing views of an idealized British summer to equally romanticized stills of Pete Doherty and Carl Barat. It's a canny move. The Libertines will always be a band who look better, perfect even, in Polaroid. All that electric friction and those roguish good looks crystalized in moment of eternal anarchy and optimism.
The Libertines, more a myth-of-their-own-making than a real functioning band, deal almost exclusively in half-imagined fables. They speak to a glorious crumbling Britannia that never really existed - an old Albion that might be found down some idyllic, lifeless lane, but that couldn't be further from the vibrant, striving, multicultural London upon whose streets the band were raised.
Fittingly, a single step inside Hyde Park's walled perimeter serves a journey through space and time. Gone is the modern colour laden festival throng and in steps a sea of muted shades.
It's 2004: fashion is dictated strictly by Camden and the dress code recalls ancient Converse commercials. Whether the 60,000 strong crowd is evidence that indie movement never died away (it simply went dormant), or that this is one last game of nostalgic dress up, remains to be seen. One thing is certain: tonight's show is all about romanticized youth, for the audience as much as the artists.
The Libertines, delivering their second super-sized return show on English soil (the first took place at Reading Festival in 2010), arrive on time and are given a heroes welcome. For a brief second those immaculate images mirror the very real, slightly unsteady, figures on stage and perfection feels attainable – and then the first note is struck.
By now everyone in attendance should know exactly what to expect. Pete Doherty is well known for his sloppiness in all aspects of his life, but if he is dubious, then the Hyde Park sound system is rotten to the core. "Vertigo" limps from the speakers a sinewy mess, buoyed by a crowd happy to bellow it's every syllable and hum its snaky riff. For all of two minutes and thirty-eight seconds it seems that nothing can kill the crowd's buzz - they are dead set on exuding every last ounce of energy in homage to their scraggly idols.
Then it happens. Like Reading four years earlier, the crowd crush is too extreme. Paramedics are called for. Pete Doherty incoherently implores the crowd to move back (to the band's credit this isn't a foolish request, there is plenty of space just shy of the barrier). "Boys In The Band" is stopped and restarted and stopped again. The surge is intense, but so is the sudden deluge of escapees. Endless chains of fans scurry beyond the barrier as flairs ignite and idiots choose this fraught moment to hurl live fireworks across this field turned sardine tin.
"Time For Heroes", perhaps the definitive Libertines anthem - perfect for an occasion where an unruly crowd battles security - suffers the same fate as "Boys In The Band". The crowd paper over the cracks until the set comes crunching to yet another halt. At this point, your reporter (with his friend's girlfriend in tears and fights erupting left right and centre) is forced to beat a retreat and enjoy the remaining performance from the deeper reaches.
The timing is perfect. "What Katie Did" is thing of beauty; it's sung off time and the grand crescendo is garbled, but it doesn't matter in the slightest. This is a unifying and calming moment. The bond between artist and audience, past and present, is undeniable. The grand coos of "shoop-shoop, shoop-de-lang-a-lang" are only slightly blighted by the occasional collapse and the paralytic body that falls (literally) into my lap.
Nevertheless, a corner has been turned and the set can be enjoyed somewhat uninterrupted, but can The Libertines triumph without the anarchy?
Almost. Minus the mayhem, "Begging" feels thin and far less essential than it did a decade ago. Equally, The Libs lack of material is quickly exposed. They're in a better position than The Sex Pistols were during their reunion phase, but "Love On The Dole" feels wholly out of place and "The Saga" is messier than it is wild.
However, even most technique-obsessed observer would struggle to deny the frenzied clatter of "Horror Show" or "Last Post On The Bugle's" majestic rattle. "Can't Stand Me Now" certainly doesn't disappoint, as Pete and Carl revel in their shared moment of triumph. Victory seems assured and no amount of archaic stage banter can sink the buoyant "Don't Look Back Into The Sun" or the vicious, semi-audible, "Up The Bracket" – well almost nothing.
During "What A Waster", what starts as a single naked man taunting security atop the speaker stack, transforms into a full-scale invasion. The platform wobbles and the speaker, suspended above the crowd, sways threatening under the weight of at least a hundred bouncing bodies. Soon enough, seven or eight morons stop the show by climbing the rigging and hanging from the wires. It wouldn't be a Libs show without this kind of over-excited idiocy, but even Pete Doherty sounds fed up when he has to implore the crowd to stop climbing the towers.
The momentum is lost at this point. "France" hardly materializes and even the most brainwashed acolyte would struggle to label "Albion" anything short of an outright travesty.
Luckily, the boys in the band can get it together enough to power out "I Get Along" giving the crowd a final chance to exhaust themselves in adoration. Carl and Pete collapse in each other's arms, but haul themselves to their feet to recite Siegfried Sassoon's Suicide In The Trenches.
It's a poignant moment; a romanticized gesture that, for once, rings true. Pete concludes the show with a tribute to mark the First World War's centenary:
"We remember and honour those who gave their lives for liberty. We thought it was nerve-wracking coming out here tonight, but leaving Kings Cross station with a rifle across your back in 1914 must have been really harsh."
It wasn't pretty, it wasn't perfect, it might not have even been good, but The Libertines at Hyde Park were strangely essential: a reminder that even in today's fractured and isolated world a single guitar band can mean absolutely everything to an entire generation.