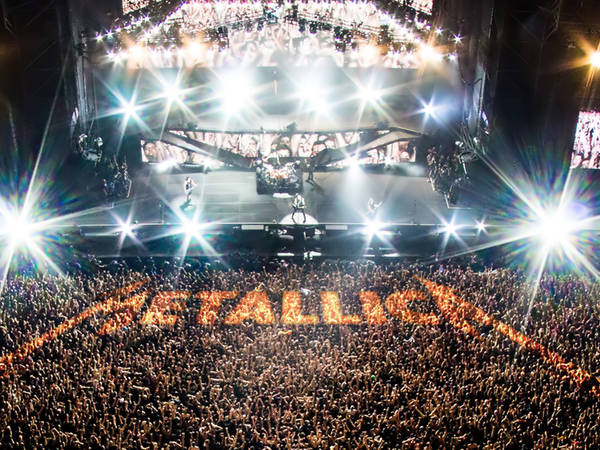 There are certain universal truths that every human being, no matter how obstinate, is aware of. Cats shall not mix with dogs, sandals should never be worn with socks and, of course, hippies and metalheads will remain diametrically opposed until the end of time.
It no doubt came as a shock when Metallica – originally scheduled to headline the Other Stage before Prince abruptly pulled out – were announced as the missing piece in the Glastonbury jigsaw puzzle. The final Pyramid Stage headliner, the one fans had been most feverishly anticipating, was not a unifying pop star of the highest order, but a gruesome, sweat soaked, metal band.
The reaction to Metallica's announcement on Twitter was initially levelheaded (well for all of thirty seconds), but reason soon gave way to apocalyptic diatribes and widespread bemusement. The press, eager for a dash of controversy to spice up a distinctly indistinct line up, jumped on the story; turning the kind of outrage that greets almost every headline announcement at almost every festival into a quasi ethical dilemma. Does Glastonbury want metal? – the think pieces read. Britain's purest and most historic festival should repel this demonic incursion – the detractors cried. Within minutes the battle lines were drawn.
Truth be told, Glastonbury may well be a universal beacon for goodwill, but it is not a hippie utopia and it hasn't been for decades. The stone circle remains in tact (as does the poetry and protest), but the vast majority of the festival's 100,000+ visitors never come in contact with Glasto's liberal heart. They are far too busy throwing their diamonds in the air with Jay-Z, being blasted into oblivion by ear crunching electronica and singing along with the biggest (and most corporate) pop stars in existence.
Each year the Glastonbury coverage likes to keep us in touch with the festival's heritage (its Crosby, Stills and Nash illusions), but when push comes to shove, Glasto's quintessential trait is inclusion. The 1990s saw the festival embrace "artificial" electronic music, ecstasy and Brit Pop's drunken swagger. The 2000s were defined by a blend of legacy acts (no one is too old or too uncool), commercial pop stars and, lastly, Hip Hop. The lesson was simple enough: if you're happy to put your wellies on and brave the mud, then the masses will accept you.
Jay-Z's 2008 headline set seemed revolutionary at the time. Noel Gallagher tried to defend his imagined Glastonbury - the guitar rock festival that never was - but he proved hideously out of touch. The actual festival fans not only turned up in droves to watch Jay (and later Beyonce), but seemed to know all the words to his songs and exactly when to bounce along.
Indeed, most music fans are more highly evolved than the press gives them credit for. Central and Eastern European readers are no doubt confused. Why all the fuss? Metal bands routinely share the stage with indie, pop, dance and rap stars on their biggest festival bills. Unfortunately, British festivals take themselves far too seriously. Tribalistic divisions were forged in decades past (when all this exclusion seemed far more essential than it does today) and the modern fan is still sifting his or her way through the fallout.
Photo by jaswooduk (CC BY-NC-SA 2.0)
Metallica should be warmed by these past triumphs for diversity and inclusion, but not lulled into a false sense of security. Jay-Z was at the height of his pop cultural powers when he triumphed on the Pyramid Stage. Festival fans are inclusive, open and willing to give big name bands a chance, but they remain fickle. What have you done for me lately is the question on most fans' lips.
Strangely, it seems metal fans themselves have been the most resistant to the Metallica announcement - perhaps they head to Somerset to escape the monotonous crop of metal headliners at Download and Sonisphere – but they have made their disenchanted voices heard (Metal Hammer's Dom Lawson laid the boot in with particular cruelty).
With no new material to tour, Metallica offer only nostalgia and a world-renowned stage show. This may be enough for the neutrals, but the uninitiated may be put off by a lack of instantly recognizable hits. "Enter Sandman" and "Nothing Else Matters" remain ubiquitous, but The Black Album, Metallica's huge cross-cultural moment in the sun, came some 23 years ago.
A Viagogo poll recently reported that 4 in 5 fans would have resold their ticket had they known that Metallica would be the third and final headliner. Attendees are certainly within their rights to argue that, while Glasto is famous for variety, they could not have predicted this headliner when they input their credit card details. Still, we've heard such melodramatic whinges before, only to discover packed fields and smiling faces come show time.
Regardless, it is striking how badly Metallica jive with Glastonbury's ultra-liberal ethos. Songs about death, mythical monsters and mass murder might do little to deter the Glastonbury fanbase (Nick Cave is a main stage regular after all), but lead singer James Hetfield's support for bear hunting has irked many of the regulars. Morrissey is no doubt enraged, but how deeply one guitarist's views on hunting will trickle down to an expectant audience remains in doubt. The same festivalgoers didn't bat an eyelid at Jay-Z's misogynistic, homophobic and occasionally violent lyrics – let alone his alleged drug dealing background – so why would they care about one rock star's choice of recreational activity (no matter how appalling it may be)?
Photo by NRK P3 (CC BY-NC-SA 2.0)
The trouble for Metallica may lay in their own complacency. The big singalongs, mosh pits and fist-pumping legions that usually greet their performances will largely be absent. They'll have to concede some ground to win over newcomers who will have no knowledge of the metal tradition.
There is precedent for converting the uninitiated. Bruce Springsteen, an American outsider when he headlined Glastonbury in 2009, was happy to teach fans the words, take requests (as always) and to get in amongst it to win over his mammoth audience. Jay-Z had some fun of his own: delivering a pair of Glastonbury specific freestyles, acknowledging the media hoopla by mocking Noel Gallagher and his detractors with a farcical "Wonderwall" cover/pre-show video and by throwing in some rock remixes for good measure.
Metallica are burdened with a huge responsibility that they may not even be aware of. There is a veritable army of metal bands who could potentially play Glastonbury in years to come, enjoying the greatest exposure imaginable, should Thrash's greatest superstars thrive on the Pyramid Stage. Metallica are Glastonbury's gateway drug and a whole legion of bands will have their fingers crossed, hoping 'tallica can do for them, what Jay-Z did for the horde of rappers that followed in his welly prints.
Metallica will be greeted by a large and healthy crowd (curiosity and controversy should see to that), but their task will be to retain it. Those mid-90s hits, that their hardcore fans detest, may serve them well here. The stage show and professionalism are a given, but James, Lars, Kirk and Rob need to read the moment and react. The answer may lie in their greatest hits, a collection of cover versions or, simply, a friendly face and a dose of patience (if the crowd don't know what to do, tell them!) – they have the tools, they need only deploy them adeptly.
Metal will, without doubt, succeed at Glastonbury; whether Metallica do on Saturday night remains to be seen.