Photo Credit: Terry Dobbins
Beartooth are making serious waves. The Ohio outfit's debut album, Disgusting, dropped in June drawing rave reviews and was followed by a European tour that cemented the band's reputation as a powerful and essential live act.
Taylor Lumley is the band's lead guitarist and, while his name might be new to many of our readers, Beartooth are far from inexperienced newcomers. The former Attack Attack! frontman Caleb Shomo is Beartooth's creative lynchpin and has masterminded an album full of both personal anguish and bombastic, bruising, hardcore that never relents.
In this interview Taylor tells us what it's like working with a single-minded creative force like Caleb, explains his philosophy for making it on the road in 2014 and shares his personal goals as a guitarist.
So what made you decide to pick up a guitar in the first place?
Actually, I started out playing drums in a middle school jazz band and I really wanted my own drum kit. Unfortunately, I was both poor and lived in an apartment, but my mom got me a guitar for Christmas. For me, I just loved being able to have something musical to do whenever I wanted to.
Ah so what was your first guitar?
It was a First Act that looked like a Les Paul double cut. I think it's still at my parent's house somehow.
So who was inspiring you back then?
I'd say my biggest inspirations would have to be Angus Young and James Hetfield along with some contemporaries like Andy from Every Time I Die and Chad from New Found Glory.
How about your first attempts at being in a band, any horror stories?
Mostly just local band nonsense, playing in crappy punk, hardcore and metal bands haha.
To a lot of our readers being a rock star, in a band, on the road is their dream - however, in recent years we've heard from more and more bands saying that it's getting harder and harder to make ends meet.

So we thought we'd ask: What's it like being a guitarist in the here and now?
I love it, but we also handle ourselves and our band differently than a lot of bands. You can definitely make a career out of playing music if you're smart and are willing to work hard. We just take care of ourselves and cut out all the stupid nonsense that most bands waste money on.
We don't have crew. We will tour in a van forever, irregardless of how much money we make and, luckily, we work with an incredible record company and have management that understand our mentality.
Beartooth isn't your typical one album under their belt band, Caleb came via Attack Attack, Oshie has City Lights, etc. So we thought we'd ask how you all came together?
I actually worked with Caleb as a guitar tech for Attack Attack! All of us had been friends for a long time and came up in the same music scene playing in different local bands. I stopped working for AA! around the same time he left the band and he hit up Brandon and I about getting together and jamming some stuff that he'd been writing for fun. The rest is history.
Do you think Beartooth is treated fairly as an entirely separate entity or do you think people still view the band through the prism of your past bands?
There was a minority of people that viewed us that way at first, but other than random questions, we've been viewed as a completely separate and new entity - which we're all very grateful for.
Normally we like to ask bands how they go about writing music and the dynamic within each act, but with Beartooth Caleb wrote, played on and produced your debut album Disgusting.

You've been with the band since 2012 so we thought we'd ask: What is it like being a guitarist in that environment?
Caleb writes the songs and we play them. We all still have input on them, but to be honest, he just writes killer songs. We always jam them after he writes them just to see what works in a live setting and what doesn't but he creates music that we all enjoy playing and hearing. Honestly, it works very well for that reason.
Is touring together full time changing the way the band works?
It hasn't yet but we're super early in the life of our band, so who knows? Hahaha
Have you discussed the creative side of the band going forward?
It honestly hasn't been something that's been touched on yet.
Listening to Beartooth the first thing that strikes us is the sheer force of the guitar work; is the goal to let rip and keep the pedal to the floor the whole time?
We all live for killer riffs. We just enjoy getting up on stage and ripping it. The majority of the songs on the record are built around the concept of getting on stage and letting loose.
As a guitarist how do work around your lead singer's ever-changing vocal style and find the right balance live?
I think we manage it well live, because of how particular Kamron and I are about our gear and setups. Everything is built so we compliment each other. That mixed with Oshie and myself doing backup vocals works out pretty well (at least I hope so).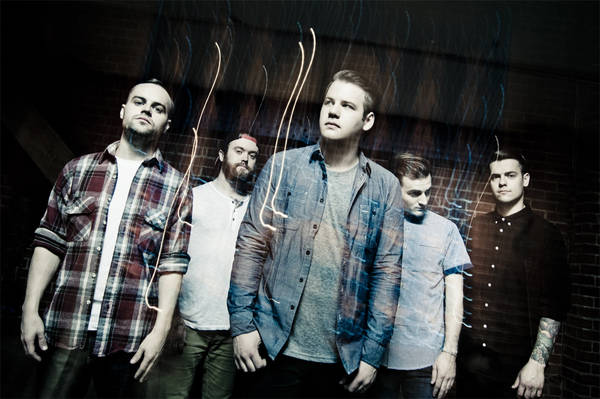 One of the elements that make Beartooth exciting is that you sound completely modern. Does that feel right to you or does your guitar work have more vintage elements than you're given credit for?
Honestly, our influences are so all over the place that I can't even really pin much down. All I can say is we love AC/DC, Motörhead and Metallica as much as we love Billy Talent, Every Time I Die and Comeback Kid.
Speaking more broadly than Beartooth for the moment, how do you want to sound as a guitarist?
I try to continue evolving my sound as much as I can. I swap guitars and heads a lot and I love effects pedals. I really enjoy a fully built sound though. So many guitarists find one sound and stick with it. That's all well and good but I just don't have the attention span for that.
Some other guys I know and myself call it; "The Quest" and I don't think I'll be done until I quit playing music or I'm dead. Most likely the latter over the former.
Fans always argue about the next generation of metal/hard rock headliners and whether young bands are interested in being larger than life anymore.

So we thought we'd put it to a relatively new band who are getting people genuinely excited: what are Beartooth's ambitions?
We genuinely don't care as long as we get to play shows. It's always a different experience, but they're all just as fun. For us, it doesn't matter if it's 300 people or 30,000, if we get to play, we're going to do what we want to do and have fun as well.
I guess you could say our ambition is simply to play wherever and whenever we possibly can.
Guitar Planet is European based and Beartooth have been getting a lot of people excited with your recent tour dates on this side of the Atlantic. We wanted to know how Europe's been treating you?
It's honestly been incredible. We go into tours with no expectations and it was genuinely incredible to go overseas and have such a warm response the way we did. We'd never thought that we would be there, but we sold out a majority of the shows and to us that was mind-blowing and very encouraging.
So from us to all the people reading this in the UK and Europe; thank you for supporting us and helping us put on some really awesome shows.
Okay we always end on this question because it's a great debate starter and everyone we ask has a different answer: What, in your mind, makes a great guitarist?
Integrity. Skill to me doesn't matter as much as someone who just gets up there and rocks because they want to play music. Who gives a shit about attention from others, money or supposed "fame?" We're musicians for a reason, to play music.