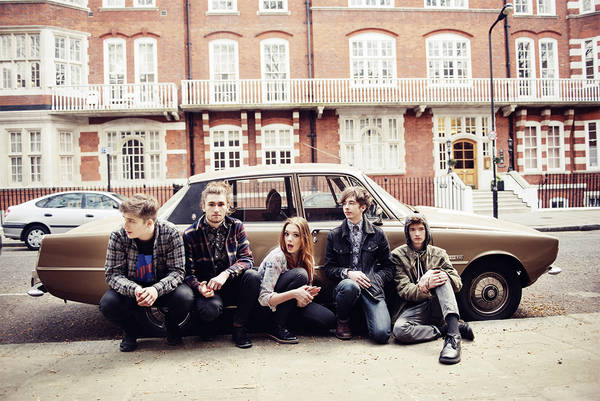 Jack Bottomley is the lead guitarist in The Marmozets - one of the UK's most exciting young bands, who've just released their debut album: The Weird And Wonderful Marmozets. The Yorkshire five-piece, comprised of two sets of siblings (the Bottomleys and Macintyres), have raised themselves above the competition by delivering, not only an endless array of catchy hooks and quick-fire bombast, but complex guitar rhythms, daring counterpoints and strangely addictive grooves.
The Marmozets are a resolutely modern band who defy conventional genre labels by serving up challenging riffs and unexpected time signatures - effectively proving that guitar music can be complex and clever, while still offering easily accessible thrills. So how do you make the seemingly simple, complex and the nigglingly off-centre, approachable? Guitar Planet decided to ask the man himself, Jack Bottomley, but we start by finding out how he became a guitarist in the first place.
So when did you first pick up a guitar and when did you decide you wanted to be a rock star?
When I was eight my uncle bought me an acoustic guitar from Ikea. I didn't really play it at all for about two years, but then I started listening to Pixies, The White Stripes and one of Steve Albini's Big Black. After I watched The White Stripes play in Blackpool, I was so mind blown I knew then I wanted to play guitar for a living. Which was a distraction through school.
So tell us about your first electric guitar, do you still have it?
My first electric was a Yamaha Pacifica. Shortly after that I got a Mexican Telecaster. Then I got my 10top PRS McCarty a couple of years after, which is still my main guitar now!
What kind of sounds and which artists inspired you early in your life? We know you've been playing together since your school days, have your tastes and techniques evolved with time?
I've always listened to the same sort of bands to be honest. I go through phases of loving different sounds, but then end up using all of them and I guess that's how I got my sound now. I want it to sound huge, fuzzy, then go to crazy with reverb and delays. Getting a Gig Rig G2 loop system definitely made that more possible, as well as using bass cabs with combos. Sounds kind of unique.
What kind of dynamic exists within The Marmozets? Who calls the shots?
It's the best thing. We all collectively agree on what happens, but I get to mould my own sound.
Okay, so how do you go about writing a Marmozets' song?
Pretty much all of our songs are written around a guitar riff. That's just how it works for us. We jam out, get the songs down in full instrumentally before layering vocals. I always find room to put my vibe in a song, unless there isn't room and it wouldn't be best for the song.
So does your role change within the band when you're writing a bigger and more emotive track like "Captive You" or "Cry"?
The songs "Captive You" and "Cry" are very different songs in their own right. It makes you think more about the actual sonic sounds rather than say a full on overdriven-cranked-amp-riff.
The Weird And Wonderful Marmozets is out this week and what strikes me is the contrast between these brutal muscular riffs and the snakier undercurrents, delicate counter riffs and intricate phrases, are you consciously trying to exploit the space between these extremes?
Yeah, we feel that's the key to being a good band. You need the big bits, everyone does; but if you nail the small sections in between as well: bingo. As you can hopefully tell, we've always payed attention to the smallest of parts making sure it gels right. Rather than say jamming a riff out for longer than it should be.
Is that something that comes naturally? To my ears at least it feels like more than just your typical quiet-loud dynamic, the guitars often run almost excitingly against one another?
Yeah! We bounce off each other completely. Dynamically, when we're writing; it changes a lot. Take "Move Shake Hide" - The first chorus, when we wrote it originally, was full on and heavy like the 2nd chorus. It was a last minute decision in the studio when Demo-ing to try making it quieter, with say a drum roll over the top going into a crescendo, which is what we stuck with.
You said you start writing with a riff, so do you have a store of little licks and riffs that you try to piece into songs or is the process more organic than that?
I usually have riffs and ideas recorded on my phone from when I jam on my own and come up with something. Sometimes they fit with others, sometimes they don't and, if they don't, you just take it from there and hope to come up with something that does!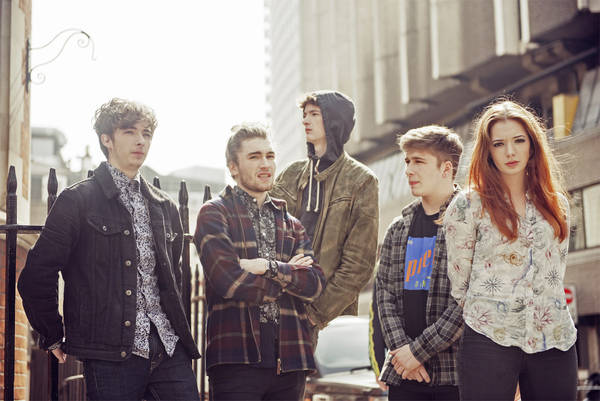 Josh leads off a couple of tracks on the album with some really addictive drumbeats, what's he like to work with - drummer's often set the tempo for bands, do your choppy and more cascading assaults stem from his playing?
In our eyes he's quite easily one of the best drummers in, if not the UK, then the world, for what he does. He constantly brings fresh ideas to the table. Drum beats that have so much groove, stuff you've never heard before.
He doesn't half smack them hard as well. I can easily see him eventually being a huge inspiration for future drummers. You wouldn't have brought him up as question if not though, right?
We often stop when writing songs if he throws in a fill and he'll just melt our minds, we laugh about it then play it again and repeat that for like 15 mins before we kind of get over it, haha.
When it comes to time signatures, do you consciously try to play around with them and surprise people, or do off centre rhythms come naturally to you?
We don't ever limit our selves into a time signature, there's a couple on the album say "Why Do You Hate Me?" - the 1st bar is in like a super pushed 6/4 which is more kind of a "5 and a half / 4" - you can't intentionally do that really haha. It's just the groove. Same in "Is It Horrible" The bridge section is in "7 and a half / 4" it's just the way we do it. We're doomed.
Finally, a less nerdy question about the album, is there a track you're particularly proud of that you'd like to tell our readers, many of whom might be new to the Marmozets, to check out?
I'll go with the title track "Weird And Wonderful". We wrote that in about 10 minutes and it ended up being the title track, so it's the newest song on the album too. I always like the newer songs more every time. Either that or "Hit The Wave". I love that track.
Me and my sister live in different cities, I couldn't imagine working with her day in day out, so tell me what's it like having not one but two sets of siblings in a band?
It's all we know to be honest. It makes us closer as a unit and tied together in that respect. Couldn't imagine it any other way.
As a follow up, the relationship between bass and lead guitar can be crucial especially in bands that play fast, darting, music, what kind of chemistry do you and your brother Will have as musicians?
We jam together all the time at home. Will again, like Josh, is completely on point. You have to realise he only ever played guitar before joining the band, but he learns and writes his bass parts so quickly. He brings the thunder.
How do feel about writers and fans drawing Paramore comparisons, it always felt a little superficial from my perspective, do you find it frustrating or do you appreciate being linked to a festival headliner?
We see it as lazy. They look at us on a photo, see there's a girl in the mix and just presume we're a pop punk band or something. We are our own animal. It's easy for people to say that. It happens to lots of female fronted bands, we know that. You kind of have to expect that. We're over it though.
Frontmen are divisive at the best of times, but how do The Marmozets deal with online backlash in general and misogynistic abuse specifically?
We rarely get stick, when we do it's never directly at us. She
[lead singer Becca Macintyre] also doesn't really use social media. Everyone's entitled to their opinion at the end of the day, but that being said it's basic instinct to know that personal threats to people you don't know is fucking ridiculous, but it happens.
We always love to get different artists to take on this question because it's something our readers are always arguing about: In your eyes, what makes a great guitarist?
Great tone, you get incredible players but their guitars sound naff. Everyone has a different idea of what's good and what's not a good sound. My favourite players are Josh Homme and Jack White as well as Ler from Primus. All have their own sound and vibe which I love. That's what it's about. At the end of the day, the sound is more important than what you can play to an extent.