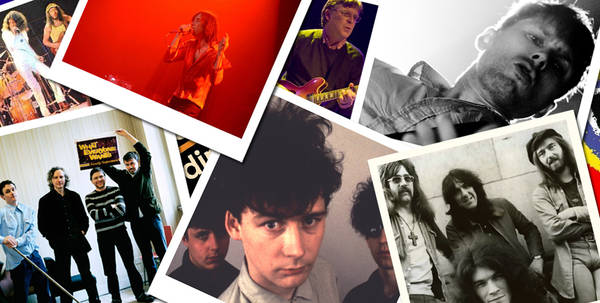 The votes have been counted, the hyperbole is at an end: Scotland will not become an indpendent country (at least for the time being). Instead, England's northerly neighbours have reaffirmed their commitment to the United Kingdom (if not its political modus operandi) and a great exhaling of breath can be heard in Westminister, but also further a field in Madrid and Beijing. The great referendum of 2014 has come and gone.
Whether you're a staunch advocate of independence coming to terms with what must be a painful defeat, or a fan of the union busy imagining the future of a nation's whose name may have stayed the same, but who is set to embark on fundamental, possibly, revolution change, there is one point of agreement: Scotland's incredible cultural contribution to the world.
Music has always been a Scottish strong point, a ceaseless export that goes far beyond bagpipes and The Proclaimers. Scots have thrived on the cutting edge (Donovon almost single handedly introduced Psychedelia to the mainstream in the 60s), but have also weilded genuine commercial power (did any band burn brighter than Travis as the millenium dawned?). This isn't ancient history however, Chrvches, Biffy Clyro, Frightened Rabbit, Django Django, The Amazing Snakeheads and countless others are forging life long connections with a new generation of music fans in the here and now.
Whatever way you slice it, Scotland has produced some of the best guitar music ever composed. So, to celebrate what is, win or lose, a thumping validation of the democratic process, Guitar Planet is going to have some fun and name its Top 5 Scottish Guitar Bands.
It's easy to forget just how bright Franz Ferdinand burned in the mid-2000s. Shooting from the streets of Glasgow this four-piece set Europe's dancefloors alight. Picking up where The Rapture and James Murphy left off in the United States, Franz created spikey, hurkey-jerky, guitar driven pop that was simultaneously dancable and dangerous, sexy and intellectual, ragged, but strangely polished. Alex Kapranos and co. proved privital in helping rock music find its way in the 21st Century by rediscovering its ambigious, androgynious, labido.
Scotland is the land of Cocteau Twins, Orange Juice and Belle & Sebastian - indie's living breathing heartland - but this list has to represent more than just one vision of Scotland. Nazareth represented the meaty, hard rocking, sound of the Scotland's stern stoney shoreline and grimey industrial metropolises. Nazareth weren't revolutionaries to rival Led Zeppelin, Black Sabbath or Deep Purple, but they offset brutality and hedonism with delicacy and soul on their career best album's Hair Of The Dog and Razamanaz. The perfect counterpoint to their fellow 70s stars, funk kinpins, Average White Band.
Scotland exploded into the space left behind by the post-punk revolution of 1978. Young, edgy, experimental artists possesing a healthy dose of pop nous, would see Scotland stride to the cultural forefront in the 1980s as disperate strands of shoegaze, noise-rock, industrial, goth and indie cross polenated one another, creating strange, thrilling, half way house sounds. The Jesus And Mary Chain best defined this fabulously fluid moment in rock history when they released their fully formed, but shapelessly beautiful, debut album Psychocandy - possibly Scotland's finest LP.
We cannot talk about potentially perfect Scottish albums without discussing Teenage Fanclub - a band who, perhaps more than any other, define the indie sound. Bandwagonesque is a masterpiece that every lover of guitar music should hear. Serene melodies in decay and wonderfully lyrical solos that fall apart at the seams create the image of a band in thrall to both beauty and apathy, power and fraglity. Teenage Fanclub created majestic music that rejected extremes, but was never, even remotely, middle of the road.
The originators of record-collector rock Primal Scream manage to take a deep array of influences and create, not nostalgia or regression, but the new. Not every idea was revolutionary, Bobbie Gillispie would, on occasion, fall flat on his face, but Primal Scream never stopped striving to evolve, to be at the forefront. Unlike the other entries on this list who occupied one moment in history or one sound, Primal Scream sought to never fall behind. "Loaded", "Rocks", "Swazsticka Eyes", "Kowalski", "Country Girl" - most artists would be over joyed to release any one of those tracks, to nail down just a solitary sound - miraculously, Primal Scream produced all five and are still desperately trying to break new ground.
So who did we miss out? Who should have made the cut? And what should Guitar Planet rank in the future? Tell us what you think in the comments, on Facebook and via Twitter.