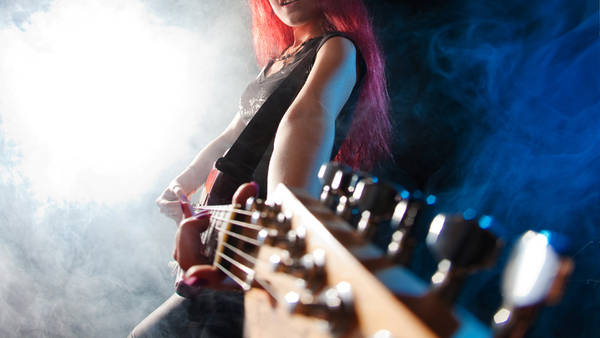 It's that time of year again. If you're not in a cuddly Valentine's Day place you could sob out your acoustic cover of "I will always love you" until the neighbours come and throw you in the river, sure. Or you could plug in and play some of these...
Swathe your sound in juddering overdriven chorus for a version of Alanis Morissette's classic "You oughta know," or for something a little different get some blues crunch going for Harry Nilsson's "You're breakin' my heart," with its rousing stomp rhythm and paradoxically cheery "f*ck you!" refrain.
If you want real darkness it'll have to be Nirvana's "Heart Shaped Box," complete with reeling grunge solo that staggers like a whisky-battered jilted lover; and for those who must wear black and sit in a cupboard, Gerrard Way understands. Turn your amp's gain setting to 'Theatrical' and rattle off "I'm not OK" by My Chemical Romance to see if howling "you wear me out..." helps a little.
For sheer melodic spite the Eagles nailed it with the hummable rhythm and snide lyrics of "Lyin' Eyes" (and there's room for about nine more heartsick guitar players to join you, too). Going unplugged? Folk punk troubadour Frank Turner's "Substitute" is essential, complete with satisfying hammer-ons and the lover who "set my heart on fire but made me choke." Ouch.
To acknowledge heartbreak while marching towards redemption means placing yourself in the hands of the Boss. Almost anything from the Springsteen canon will do it, but "Long Walk Home" is a good starting off point. Nail the uplifting Steve Van Zandt solo, hear Bruce's consolatory "Everybody has a reason to begin again" lyric, and pick yourself up.
Not there yet? Never fear. Here's a beer and a bandana. Let's riff the pain away. All together: "SHOT THROUGH THE HEART, AND YOU'RE TO BLAME..."
Ain't love grand?