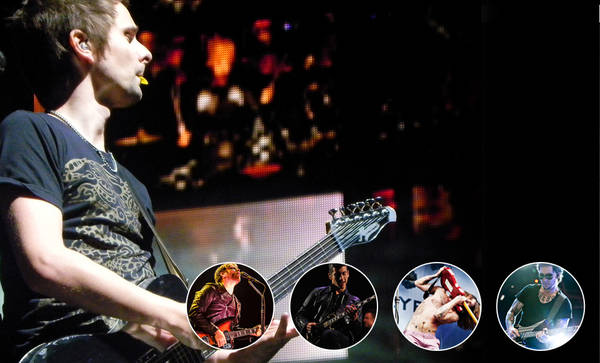 The riff is not a dying art form. There have been some melodramatic proclamations about the state of guitar music in the last decade, but that sentiment represents a bridge too far.
After all, it was not so long ago that solos were seen to be indulgent and on the way out - so much so that even Metallica abstained rather than risk being labelled dinosaurs (which, of course, they were branded anyway) – and now even indie bands are letting rip. The primeval inescapability and the sheer breakneck immediacy of the riff will ensure its continued relevance within both pop culture and rock music, but – and this is a big but – there is one troublesome question worth asking:
Where have all the great riff writers gone?
Who are the modern heirs to Clapton and Young, Hendrix and Slash? The ingrained response is to cry Homme and White, two stars who built festival headlining careers on the strength their economical guitar work, but, truth be told, these undeniably bright stars are no longer young. They've been keeping the art form at the cultural forefront for well over a decade and they themselves are in need of heirs.
The 2000s are long gone, the next decade is approaching its midpoint and, frankly, no one is entirely sure who this generation's guitar gods are. This, however, is not to say they do not exist: Guitar Planet has confidence in the current crop and is ready to sing the praises of the current riff kings.
Photo Credits: www.focka.com.br | Bruno Oliveira | Focka (CC BY-ND 2.0)
The BBC's recent ranking of the Top 100 riffs of all time is startlingly devoid of artists thriving in the here and now. With the exception of Jack White and Josh Homme only three truly modern entrants made the list. One could be cruelly dismissed as a one hit wonder: Jet's "Are You Going To Be My Girl" is a classic riff and an excellent retro-tinged hit in its own right, but even the band's most ardent fans would struggle to label Jet as a key cultural touchstone.
Arctic Monkeys, on the other hand, have been the most important guitar band in Britain since their debut single unexpectedly shot to the top of the singles chart and their iconic debut album smashed sales records in 2006. Interestingly, "Do I Wanna Know?" - a track from their really rather excellent 2013 album AM – made the BBC's Top 20 and not an offering from their generation defining debut. This might be symptomatic of the band's move towards thicker, heavier and, frankly, sexier guitar work, but it is also testament to their enduring appeal.
Jamie Cook has been writing arena-filling, chart-topping, riffs since 2005; if he did not cut such an understated and down-to-earth figure he would no doubt be mentioned more often among the six-stringed elite. The fact that a poll produced by an organization whose listenership tends to skew older (Radio 2) ranked his riff alongside T-Rex, Metallica and Chuck Berry shows his success is no youth fuelled flash in the pan.
~ Jamie's Top 3 Riffs ~
"Brianstorm", "Do I Wanna Know?" & "When The Sun Goes Down"
Photo credit: Dena Flows (www.denaflows.com (CC BY-ND 2.0)

The other modern guitar anthem to crack the BBC's top 100 was "Lonely Boy" by The Black Keys; one of the tracks that transformed a hard working duo from Akron, Ohio, into bonefide superstars.
Dan Auberbach's rise to guitar god status couldn't be further removed from that of Jamie Cook. Arctic Monkeys were shot to the top from the off and had to work hard to cope with titanic expectation and teenaged celebrity; The Black Keys on the other hand toiled. The twosome have released eight albums since 2002 and each record has been more successful than the last. Auberbach (if we can stomach some romanticism) did it the old fashioned way: touring, honing and perfecting his craft, earning plaudits over the course of a decade.
Fans of the band (as they inevitable do) debate whether the band has progressed or regressed musically, but there is no doubt that when the retro-rockers released 2010's Brothers they stumbled upon their own magic formula. Gloriously soulful vocals underwritten by intrinsically danceable rhythms and earworm riffs of the highest order poured forth, and the hits haven't stopped since. Dan Auberbach is a throwback to the unfussy, yet powerful, stars of the 70s, without feeling like a rip off merchant or regressive (a fate that many of his peers struggle to avoid).
As long as The Black Keys are around the blues remain raw, sexy, vital and young.
~ Dan's Top 3 Riffs ~
"Tighten Up", "Lonely Boy" & "I Got Mine"
Photo credit: Christian Misje (CC BY-ND 2.0)
The reason it is so tricky to single out the modern masters of the riff is that, in the current landscape, certain acts burn white hot for a moment and then fade. Indie fans will certainly remember Franz Ferdinand's riffs from the early-2000s, for a time they dominated Europe's dance floors, but not so today. Equally, Metal has endured a decade of false starts with bands threatening to become the next big thing, but receding before they reached the heights Franz managed in indie.
14 years on from the turn of the millennium it is tempting to label either Daron Malakian (System Of A Down) or Mick Thompson (Slipknot) metal's leading riff machine. However, while these guitarists are monumental, they feel like part of the furniture, rather than of the moment. The leading lights of a generation just passed. Synyster Gates and Avenged Sevenfold, on the other hand, still feel like the oncoming storm: the one band capable of escaping the metal milieu and staking their claim towards immortality.
It helps of course that their material keeps getting better and better. Having started with riffs whose theatricality made them distinctive, today Gates seems content to bowl over his audience with earth shaking heaviness. 2013's "Hail To The King" riff is simplicity itself, but the way its rudimentary brutality contrasts with light fingered delicacy of the second guitar part is simply divine.
~ Gates' Top 3 Riffs ~
"Hail To The King", "Nightmare" & "Eternal Rest"
Photo credit: Tom Øverlie, NRK P3 (CC BY-ND 2.0)
Biffy Clyro are yet another band who have earned their top spot the hard way. The 21st century is routinely derided for its short attention span, and yet, the riff makers who stand supreme in its second decade, are those who either never-got-the-chance-to-be or outlived the flash in the pan moniker. Biffy Clyro burst from rock's sidelines by playing upon the contrast between fragility and muscularity.
Simon Neil's best songs and best riffs are hard to pin down and refuse to fit a set mould. They can be spikey, brutal, spasmodic, delicate, ethereal, and triumphant - on Biffy's best records they can be all of the above at once. Neil's music plays on surprisingly sombre themes, using ultra-specific imagery and unexpected turns of phrase to bring edge and otherness to what are often perfect pop sentiments. His riffs share this tendency, they appear wiry and snaky one moment and gargantuan the next as the band shift from the insular to the universal.
~ Simon's Top 3 Riffs ~
"The Captain", "57" & "Living Is A Problem…"
Photo Credit: Tianxiao Zhang
There is something startling about this short countdown of the modern masters: how blindingly obvious the selections are. What stands before the reader is not five obscure guitarists or niche technicians, but (arguably) the five biggest rock bands in the world under the age of 40. The riff far from shrinking to the sidelines remains absolutely pivotal in shooting even a paranoid-prog rocker like Matt Bellamy or metal outcast like Synister Gates to the top of the charts.
Each artist has his own style – Matt Bellamy's is wild, elastic, grandiose and gravity shattering – but by blending blistering riffs with crafty hooks, despite what the doom-mongers might have you believe, guitar music can still reign supreme. Over the years as Muse have transitioned from alternative favourites to stadium regulars their riffs have warped and mutated; they've become infected by funk, space age disco and classical theatrics. The base brutality has never declined, "Supermassive Black Hole" is a stern slap across the chops with white diamond studded gloves, "Knights Of Cyndonia" is a hold-onto-your-horse-for-dear-life romp and, well, "Plug In Baby" remains a behemoth.
~ Matt's Top 3 Riffs ~
"Plug In Baby", "Stockholm Syndrome" & "Citizen Erased"